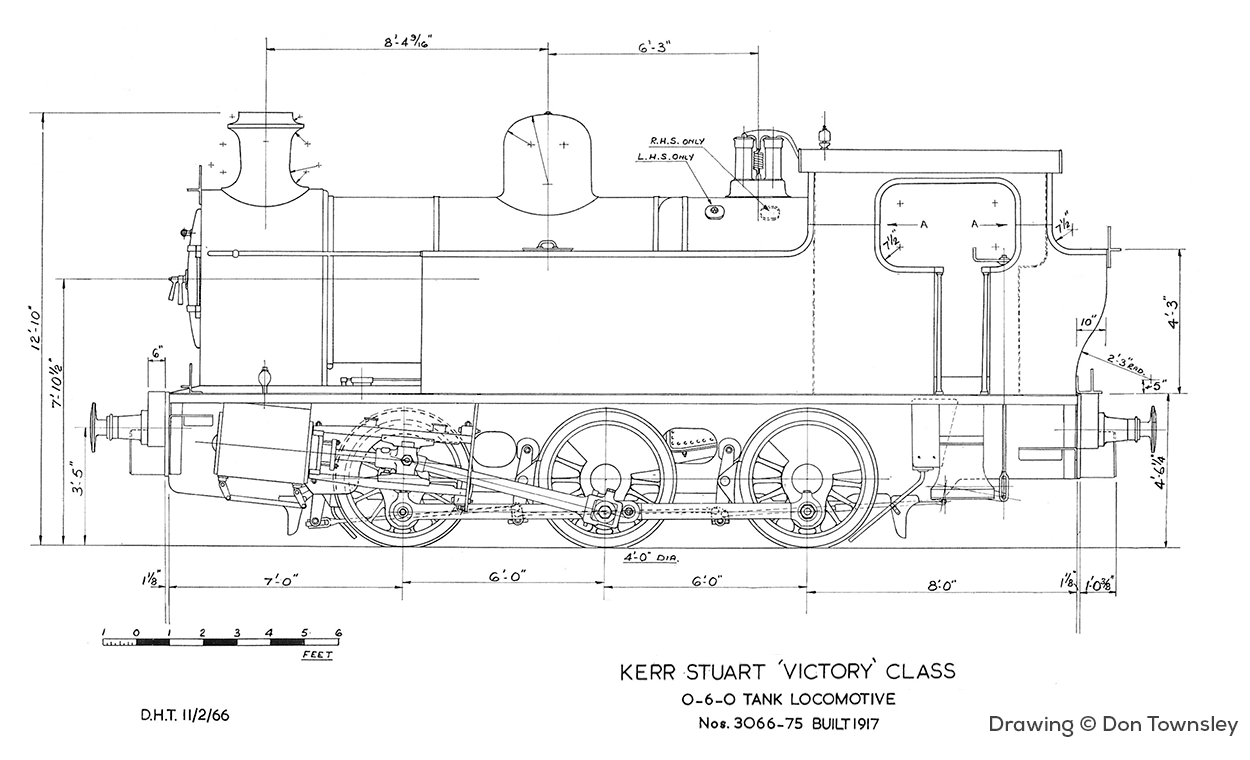 Early History
In December 1914, as part of the Railways Directorate, the Inland Water Transport and Docks Section of the Railways Directorate was formed, its purpose to deal with transportation along the canals and waterways in France and Belgium. In October 1915 it became a separate section, and growing rapidly in size its headquarters were established in Richborough, Kent. By January 1916, due to congestion at Longmoor Camp, a stores and personnel department was established on an expanse of marshland alongside the Stour. A dock and jetty nearly a mile in length was established, equipped with powerful cranes, to serve the ever increasing materials and supply needs of the allied forces in Europe. In 1918 a roll-on roll-off service was established with three ferries connecting Richborough with Calais and Dunkirk.
The increasing demands on rail service at Richborough saw an order placed with Kerr Stuart on the 4th January 1917 for ten 0-6-0t, with the first 5 to conform to the French loading gauge, and named their 'Victory' type. The specification matched accepted main line practices of the period with inside Stephenson's link motion and outside 17" cylinders with 24" stroke. 4ft diameter wheels over a 12ft wheelbase made them powerful and suited to use dock-side. The large diameter boiler had a Belpaire firebox with 217 steel tubes and a heating surface of 1031.5 sq.ft. The weight of a working locomotive at 49 tons with a tractive effort of 20,567lb was comparable to the widely known Hunslet 'Austerity' type.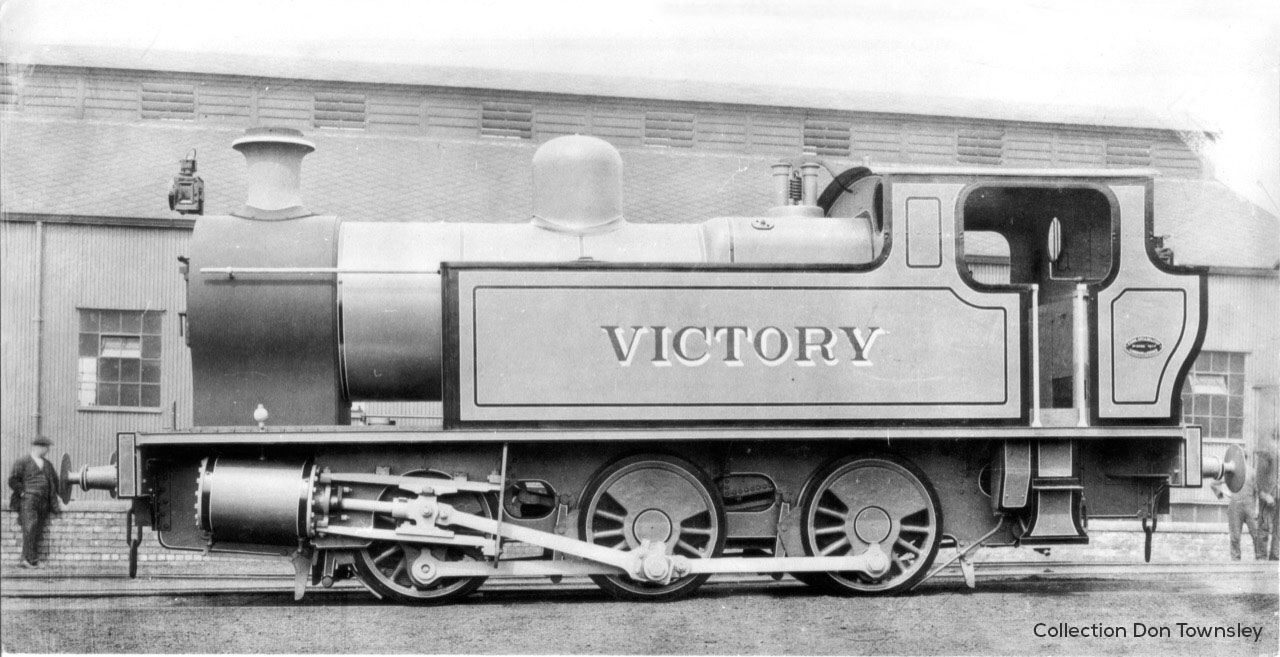 Technical specification
Diameter of coupled wheels

4ft 0in

Coupled wheelbase

12ft 0in

Length over buffers

31ft 6in

Overall width

9ft 0in

Overall height

12ft 10in

Diameter of cylinders

17in

Stroke of cylinders

24in

Tank capacity

970 gallons

Fuel capacity

70 cu:ft

Heating surface

217 steel tubes, 1.75in diameter 1,031.5 sq.ft

Weight of engine empty

40 tons

Weight of engine in working order

49 tons

Tractive force at 89% boiler pressure

20,576lbs

Tractive force per ton of adhesive weight

420lb
The first two locomotives were dispatched on 6th June 1917 for the Royal Engineers, works number 3066 to Sandwich for Richborough Stores Yard and 3067 to Southampton. These pair were finished with taller cabs, as specified, and must have been dispatched before the works photographs were taken. There was a delay in delivery of the remaining locomotives and it appears (from Don Townsley's extensive research of the Kerr Stuart documentation) that the authorities, sensing an early conclusion to hostilities were asking to be relieved of their obligation to purchase 3068-3075. One extract Don found read '...please note that we have taken over these locos and that we are constructing them for our own stock purposes. We wish them complete at the earliest possible time and run out in siding or in machine shop, or wherever you like, as we shall have no difficulty in disposing of them. We wish however no mention to be made of the fact that they have been altered from the original design and please forget that they have been so altered'. Perhaps this explains why only the first two locomotives were built with taller cabs?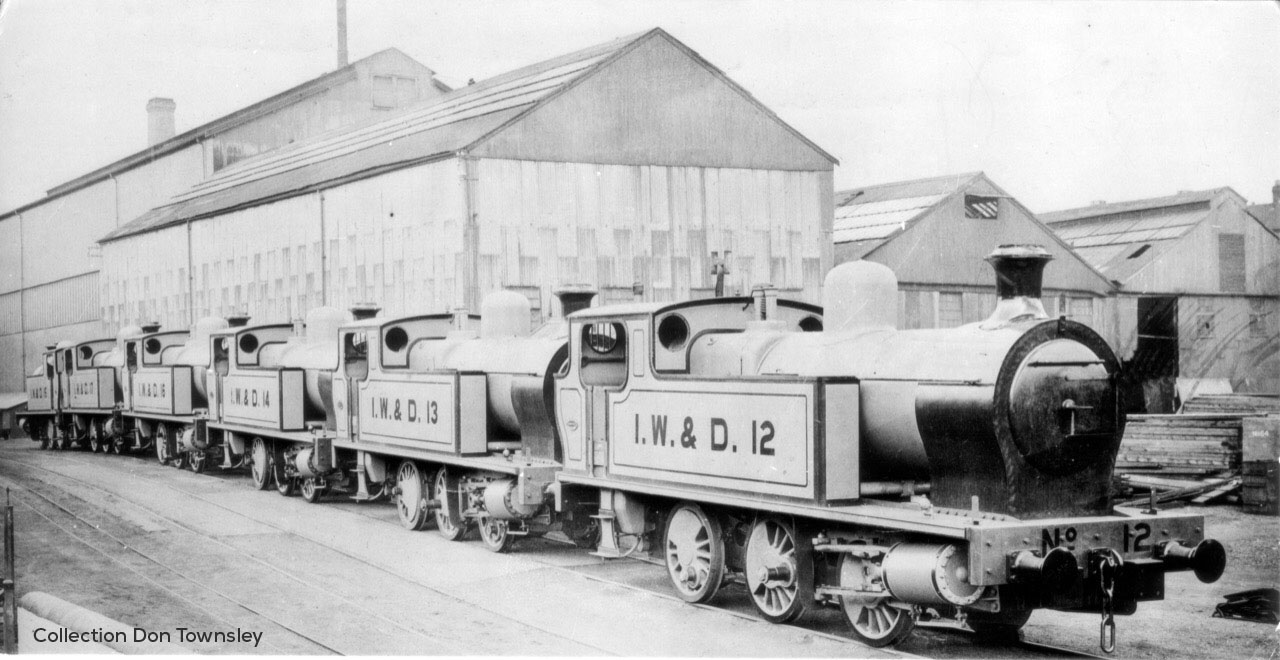 Three months later, the 'type' photo shows IW&D 12 (works 3068), also lettered 'Victory' on one tank side. A photo also shows IW&D 12, 13, 14, 16, 17 and 18 lined up outside the works, painted in grey, lined black and white and lettered for IW&D. The final two locomotives were dispatched on the 14th September, all eight being sent to Portsmouth, presumably for export to France.
At some point in their short military career they were re-numbered under a ROD (Railway Operating Department) scheme as 601 to 610. The ROD livery is likely to have been plain black (certainly photographic evidence shows 608 in this manner), however there is evidence that 609 was more decoratively lined out by modifying the original IW&D livery, in a photograph that appears to have been taken overseas. After the end of hostilities, the 10 locomotives were returned to the UK and put up for sale by the Government Disposals Board.
Further post-war history coming soon...